24 Apr. 2019
India Tour Report 2019        Wenyue Xuan (UTokyo)
| | |
| --- | --- |
| ・affiliation | :Department of Technology Management for Innovation |
| | |
| --- | --- |
| ・duration | :February 20-27, 2019 |
| | |
| --- | --- |
| ・program | :School of Engineering India tour |
Before this tour, I have never been to India. I guess the impression I held about India was a mixture of facts, imagination, and maybe even stereotypes. Thanks to the program offered by Engineering School of U Tokyo, I am able to experience the country, its top university IIT, and leading companies and institutions myself. Moreover, thanks to all the people I met and talked with, including professors, fellow students from U Tokyo and IIT, representatives from companies and institutions, and so forth, I spent an unforgettable time during the India tour. I would like to write about things that left me the deepest impressions, though there are too many things that could be talked about.
1) IIT Visit
The first class we attended was a computer science class. I knew that the ratio of male and female students in CS class was always imbalanced, but I was still a bit of surprised to see the ratio in this class (refer to the picture below). Another surprising thing is that during all the four classes we attended, I hardly saw students using smartphones. Based on my past university experiences, I think it can be called "miraculous". As college students, we all know that using smartphones during classes can be distracting while it is not easy to refrain from using it, including myself. I think IIT students are examples to learn from. Later, we met our IIT student partners, who were amiable, intelligent and passionate. I also got the feeling that their ambitions and optimistic spirit spoke for the future of this country.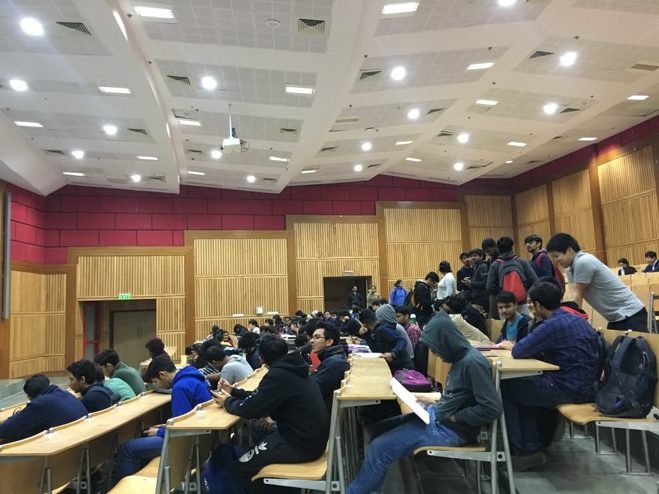 During the lab visit session, our group visited professor Bolia in the Department of Mechanical Engineering. Besides the discussion on academic topics, we also talked about social issues. Professor Bolia mentioned his concern for GDP as a dominant notion in today's discourse worldwide, which is likely to engender people to consume and own more. Instead, he noted that we should give more thoughts to "giving back". During our talk, I was also inspired by how academic research was closely tied and could contribute to the betterment of society. In terms of career choice, his idea that "when taking money out of the equation, a lot of options will be open" also let me rethink about my future decision.
2) Company/Institution Visit
The visit to Honda was my first factory tour, so I was very excited about it. During the tour, I asked a representative who was in charge of training the employees whether he liked the Honda factory. "I don't like it," he said. As I was surprised at his answer, he smiled, "I love it!" Then he told me he had been working here for around 15 years (if I remember it right). I think it is one of the great happiness in life that one can get joy from the job, instead of sheerly regarding the job as a source of income. On the other hand, I think it is advantageous for the company to create an atmosphere or culture in which employees take pleasure in their work.
In the Q&A session of the presentation, I asked about the automation in the Honda factory here. A representative answered that it was relatively low compared to its counterpart in Japan. In the factory, I saw that only the welding shop involved the use of robots. The employee told me that it was because in other manufacturing processes, it cost less to hire labor than introducing the use of robots. It made me realize the demographic dividend brought by the high ratio of the working age population in India.
3) Other thoughts
Air pollution is a serious issue in India. The air quality reminded me of my days in Beijing, the capital of China that is also plagued by air pollution. But unlike in Beijing where many people would put on masks when the AQI (Air Quality Index) rose, I did not see any Indian wearing masks (One time during the trip, an IIT student kindly reminded that "you can put on the mask if you want"). Meanwhile, I saw roads with dirt, bumps, and hollows, little children begging for money in the night bazaar, and chaotic traffic.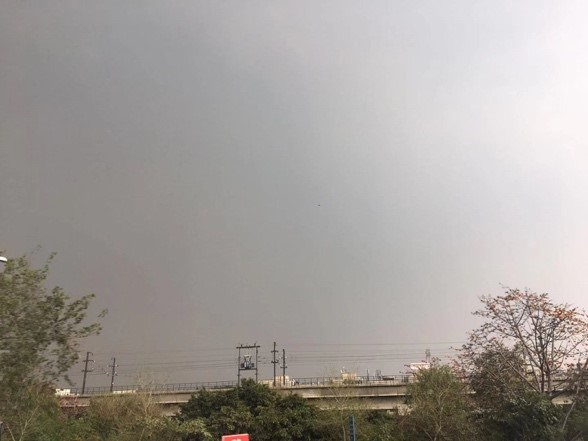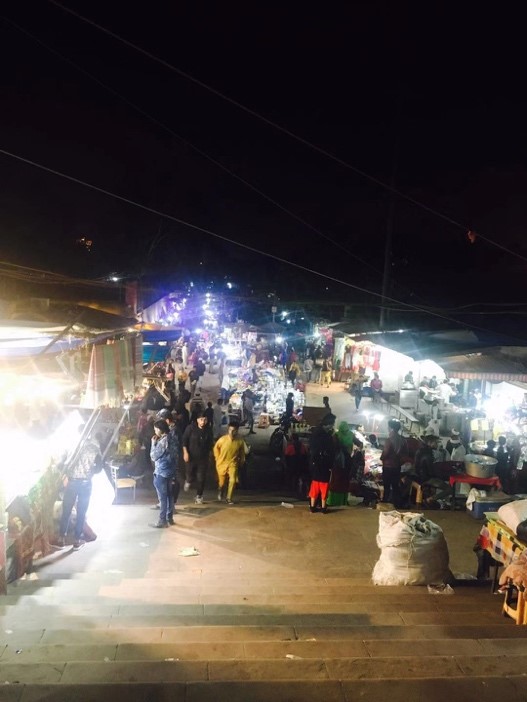 I used to think that environmental issues should be given priority to in the long run. In the country, however, where the basics like water, sanitation, health care, and education are scarce for many people, where there is a pressing need for infrastructure construction, the country has to sustain economic grow and offer better living conditions for citizens. Achieving sustainable growth is critical but always thorny; it is a big challenge for India, but it also offers huge opportunities for domestic and international businesses that can offer technological, financial, or managerial solutions.