07 Aug. 2017
IJEP Internship Program 2017    Nikhil Joshi ( IIT Kharagpur )
| | |
| --- | --- |
| ・affiliation | :Mechanical Engineering, Indian Institute Technology of Kharagpur |
| | |
| --- | --- |
| ・duration | :May 10th-July 19th, 2017 |
| | |
| --- | --- |
| ・program | : Prof. Yuji Suzuki and Prof. Kenichi Morimoto laboratory |
Internships are very important as they enhance your experiences and help you set your future goals. IJEP program allows you to be an important part of your lab. You will feel no less important than any other doctoral student in the lab. If you are considering going for higher studies, you don't want to miss this program. I will broadly classify my report into three parts:
1)Application
2)Experience
3)Conclusion
1)Application:
Rather than just looking at the reputation of the university, I believe that it is equally if not more important to consider the lab in which you want to work.
Although there is no (Cumulative Grade Point Average)CGPA cut-off for the application, but a good score always helps. It seems as if a substantial attention is given to your Statement of purpose(SoP) and also the recommendation letter, rather than just the CGPA. So show your genuinity in writing your SoP.
2)Experience:
The most important part of the internship experience in the reflection. As I look back over the two months of the internship, I can see that I really grew as a professional.
I have really enjoyed my internship experience. The goals that I set for this experience, I was able to reach. I was pleasantly surprised at how much I gained personally from this experience.
2.a) Research experience:   I worked on flow boiling in an oblique wavy wall duct. I got hands on experience on Ansys Fluent software(for numerical simulation) and pointwise software(for meshing). I spent the first month in going through the literature and undertaking small assignments to get accustomed with the softwares. Professors constantly monitored my progress as I presented my research in group meetings, from time to time.
2.b)Food:
 I usually preferred Ramen for Lunch at the Chuo refractory, located within the campus. It is difficult to find vegetarian food at the cafeteria, but there are Indian restaurants near the hongo campus.
2.c) Culture
Got a chance to meet the sumo wrestlers.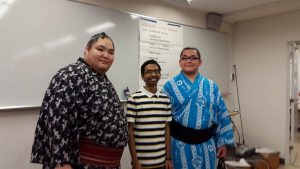 JLCSE classes helped me learn to speak, read and write commonly used Japanese words.
International Cafe which provides an opportunity to meet other international students in the campus. Also a summer party is arranged towards the end of the program, where in one gets to play games and of course that comes with delicious food and drinks.
University Festival was scheduled in the second weekend after our arrival in Japan.
You will very well be informed about various events that are going around in the campus. So make the most of it by participating in them, they will give you an insight into the Japanese culture.
2.d) Tokyo experience and day trip
Japanese people were very warm and helping! I would like to share a experience regarding this. I had a problem and sought help from a Japanese person, he considered it as his responsibility to solve my problem.
Weekends were very special as I explored various places of Tokyo and surrounding areas.
Places Visited around Tokyo:
Odaiba beach: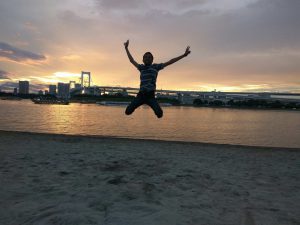 Akihabara, Shinjuku and Shinjuku: It's a great place in Tokyo for shopping and buying electronics tax free.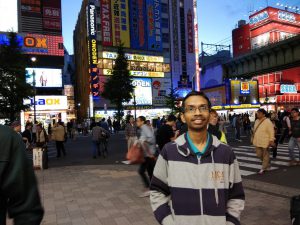 Kawagoe museum: It's in another prefecture close to Tokyo, where you can explore the traditional Japan. I visited the art, cultural, city museums and also the castle.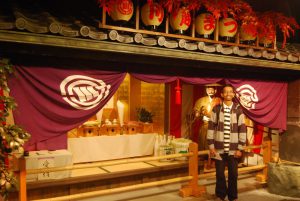 Imperial Palace : The area around the Tokyo station is beautiful, with very tall skyscrapers. Imperial Palace is the home of the emperor.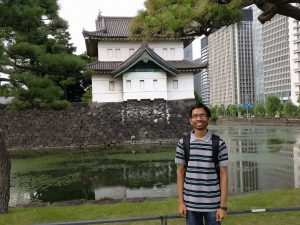 Tokyo Dome City Amusement park: It roller coaster ride is amongst the top 10 rides in the world. Its an adventurous place to spend your day.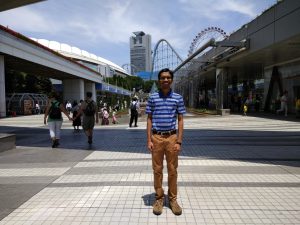 Nagoya, Nara & Kyoto (20th June, 2017): IJEP organized a day trip to CNC machine manufacturing company, DMG Mori Iga Plant. For a Mechanical Engineering student the location of the day trip couldn't have been better! Also got a chance to visit the magnificent Todaiji temple at Nara. Travelling in Shinkansen bullet train, at the speed at which most of the modern jet liners take off was exciting! We also visited the Todaiji temple at Nara.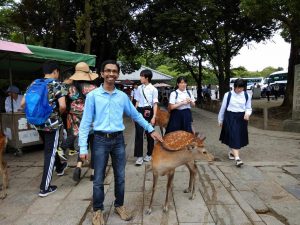 2.e) Lab
 There were many international students in my lab and apparently in UTokyo.
 Seeing lab members spend 12-14 hrs, certainly motivated me to spend more time in the lab
 There are state of the art facilities in the lab
 I was assigned a mentor who helped me during my stay at UTokyo.
3)Conclusion:
Learned many new things in CFD
Time Management, Punctuality and Planning
Certainly motivated to undertake further research in the field of CFD
Had an amazing experience at UTokyo, one of the top ranked university in the world
Research culture is very rich
Made new friends from different parts of the globe
A lot of memories to take back from  here
Glad that I came to UTokyo