30 May. 2017
IJEP Symposium, June 9th , 2017
We will hold the IJEP Symposium to introduce the activities and the prospect of IJEP.
Guest speakers from IITs are also expected to join the symposium. Please register and join the symposium.
This event is open to faculty members and students of the University of Tokyo as well as those who are committed to and/or have a strong interest in the educational collaboration between India and Japan.
Date and time:  June 9 (Fri) 2017   10:00-17-00
Location:       Koshiba Hall, Hongo Campus, The University of Tokyo
Language:       Mainly in English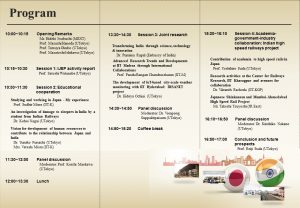 Registration:   Please register from  https://goo.gl/Nsefao
Inquiry/Contact:  k-kikaku.t@gs.mail.u-tokyo.ac.jp